Decanting is not just a process in which a wine reacts with oxygen: it is a celebration of the pleasure of wine at the highest level. Wine lovers gather and take the time to devote themselves fully to the wine. With the right decanter decanter of decanter, this experience also becomes an aesthetic experience and a holistic pleasure. So that you and the wine lovers in your acquaintance can benefit from the Eisch decanters for a long time, you should pay attention to some tips on the treatment, cleaning and care of the high-quality crystal glass accessories.
No Drop Effect
All Eisch decanters are provided with the no-drop effect, to prevent dripping at the edge of the vessel and thus also ugly stains on the table or tablecloth. To preserve the effect for a long time, you should avoid excessive scrubbing at the top edge of the carafe and only wash the vessel by hand.
Clean
Eisch decanters should only be washed by hand and with clear water. Due to the usually very artistic design of the hand-made Eisch decanters, however, it is often a bit difficult to get anywhere. Therefore, there are special cleaning beads made of stainless steel..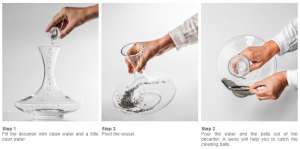 Drain
After cleaning, you should drain the decanter. The perfect accessory for this are decanter stands made of high-quality stainless steel. On top of them, the carafe of duck (for each shape there is the appropriate stand) can be hung upside down, so that the water can flow from the inside of the vessel in a gentle way.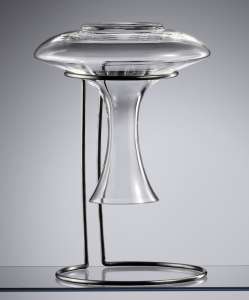 Dry
Even after proper cleaning and thorough draining, water droplets may remain inside the decanter. Therefore, the decanter should also be thoroughly dried after cleaning. Particularly suitable for this is the Eisch decanter dryer. The micro-fiber strips of the patented dryer reach every spot in the decanter and are very absorbent.
Before using for the first time, rinse the microfiber cloth with warm water and lint if necessary. Before drying, screw the extension rod onto the holder of the microfiber cloth.
After use, wash out the dryer with water of detergent. For heavy soiling it is washable in the washing machine at up to 60°C: unscrew the handle beforehand, tie the microfiber strips together with a rubber band of place in a laundry bag, do not spin and do not dry in a tumble dryer.
Store
For safe storage of the Eisch decanter, the appropriate decanter stands are suitable. The inside of the vessel is thus efficiently protected from dust. At the same time, the decanter is also presented in a visually appealing way – which increases the anticipation of the nest relaxed wine tasting,