Distinctive brands under one roof
Prestige (Malaysia)
As the first luxury multibrand tableware retail concept store i n Malaysia, Artelia's curation of products focuses on one central theme – exclusivity. Walk in and you'll be pleasantly surprised to discover so much more than what you came for. A brainchild of China Pottery and founded by individuals who are passionate about design and craftsmanship, Artelia showcases the best dinnerware, vases, decorative chinaware, and other centrepieces for your home. Whether you're looking for a classic design, or something quirky and eye-catching, there's something to suit every taste at Artelia.
FINE CHINA
Known for producing t he finest quality of tableware ideal for relaxed dinners and elaborate affairs, Noritake has been an unparalleled force in the world of exquisite ceramics. With morethan-a-century history in porcelain production since its first establishment in the village of Noritake, a suburb near Nagoya, Japan, Noritake has perfected the art of custom heirloom pieces and exclusive collections, with presence in top hotels, restaurants and airlines across the world.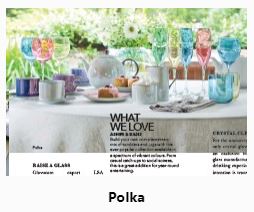 RAISE A GLASS
Glassware expert LSA International was first founded in the fashionable swinging ' 60s i n London by the Lubkowski family. Five decades on, t he traditional craftsmanship of creating brightlycoloured enamelware is kept alive using the original five materials – glass, porcelain, leather, wood and enamelled steel. Under the leadership of Monika Lubkowska-Jones, daughter of the co-founder Janusz Lubkowski, highly-skilled artisans are experimenting and pushing boundaries, particularly in the complex area of mouthblown glass, to produce unconventional shapes and functional pieces for everyday use.
CRYSTAL CLEAR
For the unconventional is ts, Eisch Crystal is the only crystal glass in the world with SensisPlus, an exclusive technological breakthrough in glass manufacturing. Transforming one's wine drinking experience, a wine maker or distiller' s intention is translated within minutes of being poured into a SensisPlus crystal. Sense the layers and nuances; bold or soft, as your wine enjoyment is brought to new heights.